Priest in Athens throws acid at bishops after disciplinary hearing
The bishops were in session to discuss possibly defrocking the priest after he was allegedly discovered to be in possession of 1.8 grams of cocaine.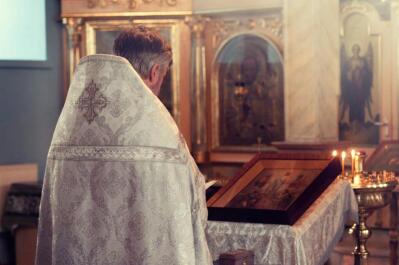 PRETORIA, June 24 (ANA) – Ten people, including seven senior Greek Orthodox bishops, have been hurt in an acid attack by a priest undergoing a disciplinary hearing in Athens, the Guardian UK reported on Thursday, citing authorities.
The online publication said three of the bishops were still in hospital following the attack late on Wednesday, while two lawyers were also being treated. A guard who was at the scene and arrested the suspect was also rushed to hospital.
Local media reported that those attacked had suffered burns, mostly on their faces and hands, the Guardian UK wrote.
The Guardian cited a Greek newspaper, Ta Nea, reporting that the bishops were in session to discuss possibly defrocking the priest after he was allegedly discovered to be in possession of 1.8 grams of cocaine hidden under his cassock, in the area of his genitals, in June 2018.
According to the Washington Post, when members of the religious court informed the priest of their decision, he suddenly stood up, pulled out two bottles of acid and lunged at the panel, allegedly dousing them in caustic liquid.
According to Athens News Agency, the suspect is still in custody and it is still unclear whether he has been formally charged.
The news agency reported that Health Minister Vassilis Kikilias visited the victims in hospital and said that four of them will remain there and one will be transferred for plastic surgery to KAT hospital, north of Athens.
"The remaining two metropolitans will be transferred either to KAT or to the eye clinic of Gennimatas Hospital, depending on the outcome of their recovery," he was quoted as saying.
– African News Agency (ANA); Editing by Yaron Blecher
ANA NEWS WIRE Disclaimer:
The African News Agency (ANA) is a news wire service and therefore subscribes to the highest standards of journalism as it relates to accuracy, fairness and impartiality.
ANA strives to provide accurate, well sourced and reliable information across Text, Images and Video. Where errors do appear, ANA will seek to correct these timeously and transparently.
The ANA platform also contains news and information from third party sources. ANA has sought to procure reliable content from trusted news sources but cannot be held responsible for the accuracy and opinions provided by such sources on the ANA platform or linked sites.
The content provided for on the ANA News Wire platform, both through the ANA news operation and via its third party sources, are for the sole use of authorised subscribers and partners. Unauthorised access to and usage of ANA content will be subject to legal steps. ANA reserves its rights in this regard.
ANA makes every effort to ensure that the website is up and running smoothly at all times, however ANA does not take responsibility for, and will not be held liable for times when the website is temporarily unavailable due to technical issues that are beyond our control.