The book, with no input from the royal couple, is filled with salacious claims and what author Tom Bower described as 'bombshells.'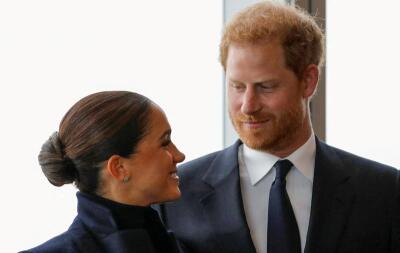 The book, with no input from the royal couple, is filled with salacious claims and what author Tom Bower described as 'bombshells.'
Former BBC journalist Tom Bower is expecting a massive fallout after his long-anticipated book "Revenge: Meghan, Harry and the war between the Windsors" is released later this week.
But we won't be holding our breath.
The book, with no input from the royal couple, is filled with salacious claims and what Bower described as "bombshells".
According to "Newsweek", extracts published in "The Times" painted a grim picture of the Duke and Duchess of Sussex, particularly Meghan who was quoted as the "meanest person" by an advertising shoot director she worked with.
The Duchess reportedly triggered the palace's fury with a "Vanity Fair" interview while guest editing "British Vogue", which resulted in a "conflict" about "control".
Prince Harry also made for an easy target.
"The Times" quoted Bower's book extract, relaying when Harry first introduced Markle to his close friends at a shooting party in Sandringham.
Because of the cultural differences and her control over him, some old friends from Eton College reportedly said "Harry must be nuts" for dating her.
The most controversial part of the book claimed Queen Elizabeth was relieved Markle would not attend Prince Philip's funeral.
This was later refuted by a palace source who told "Newsweek" it was "unlikely" she had been focussing on anything other than her late husband.
Journalist Sam Kashner entered the fray, writing an open letter to "The Times", denying Bower's negative account of his experience interviewing Markle for Vanity Fair in 2017.
Bower, who has been described as a "feared British biographer", could find himself with more enemies than friends after the release of the book.
The royal couple, on the other hand, have decided to stay tight-lipped.
When arriving at the UN headquarters in New York for Harry's Mandela Day speech, "Voice of America" Margaret Besheer asked: "Prince Harry, are you worried that Tom Bower's new book is gonna widen your rift with the royal family?"
Meghan and Harry appeared to ignore her question.
ANA NEWS WIRE Disclaimer:
The African News Agency (ANA) is a news wire service and therefore subscribes to the highest standards of journalism as it relates to accuracy, fairness and impartiality.
ANA strives to provide accurate, well sourced and reliable information across Text, Images and Video. Where errors do appear, ANA will seek to correct these timeously and transparently.
The ANA platform also contains news and information from third party sources. ANA has sought to procure reliable content from trusted news sources but cannot be held responsible for the accuracy and opinions provided by such sources on the ANA platform or linked sites.
The content provided for on the ANA News Wire platform, both through the ANA news operation and via its third party sources, are for the sole use of authorised subscribers and partners. Unauthorised access to and usage of ANA content will be subject to legal steps. ANA reserves its rights in this regard.
ANA makes every effort to ensure that the website is up and running smoothly at all times, however ANA does not take responsibility for, and will not be held liable for times when the website is temporarily unavailable due to technical issues that are beyond our control.