Save the Date: African Development Fund replenishment meeting
What: African Development Fund replenishment meeting. Who: Donor country representatives, African Development Bank Group senior management. From 15 to 17 September 2022, international development partner country officials of the African Development Fund and senior management of the African Development Bank Group will meet in Dakar, Senegal, to discuss…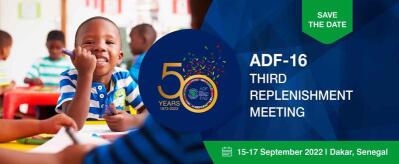 What: African Development Fund replenishment meeting
Who: Donor country representatives, African Development Bank Group senior management
When: 15–17 September 2022
Where: Dakar, Senegal / online and in-person
From 15 to 17 September 2022, international development partner country officials (deputies) of the African Development Fund and senior management of the African Development Bank Group will meet in Dakar, Senegal, to discuss the Fund's sixteenth replenishment (ADF-16).
ADF-16 will expand quality, sustainable, climate-resilient infrastructure investments in agriculture, energy, transport, water and sanitation, health infrastructure and other sectors. This replenishment will also see the introduction of a new climate action finance window to help Africa's most vulnerable countries address the skewed impact of climate change on the continent.
The African Development Fund is the concessional window of the African Development Bank Group. It supports eligible African countries in strengthening their economic capacity, reducing poverty and spurring economic and social development. International development partners replenish the Fund's resources every three years. They are represented in the replenishment discussions by their African Development Fund deputies.
Since its inception, the Fund has had fourteen replenishments. The current replenishment period is thus the Fund's 15th. The 16th replenishment will take place later this year.
Learn more about the African Development Fund and past replenishment cycles here.
To read about African Development Fund success stories and to visit the Fund's virtual exhibit, click here.Source African Development Bank Group
The post Save the Date: African Development Fund replenishment meeting appeared first on The Maravi Post.
ANA NEWS WIRE Disclaimer:
The African News Agency (ANA) is a news wire service and therefore subscribes to the highest standards of journalism as it relates to accuracy, fairness and impartiality.
ANA strives to provide accurate, well sourced and reliable information across Text, Images and Video. Where errors do appear, ANA will seek to correct these timeously and transparently.
The ANA platform also contains news and information from third party sources. ANA has sought to procure reliable content from trusted news sources but cannot be held responsible for the accuracy and opinions provided by such sources on the ANA platform or linked sites.
The content provided for on the ANA News Wire platform, both through the ANA news operation and via its third party sources, are for the sole use of authorised subscribers and partners. Unauthorised access to and usage of ANA content will be subject to legal steps. ANA reserves its rights in this regard.
ANA makes every effort to ensure that the website is up and running smoothly at all times, however ANA does not take responsibility for, and will not be held liable for times when the website is temporarily unavailable due to technical issues that are beyond our control.