Ethiopia: Essential aid reaches Tigray region, but more still needed
The 27 trucks delivered nearly 1,000 metric tonnes of food and other essential items to the city of Mekelle, UN Spokesperson Stéphane Dujarric told journalists in New York. Mr. Dujarric said food and other aid has been dispatched from the regional capital Mekelle, to priority areas across Tigray for onward distribution, while fuel that has recently arrived is…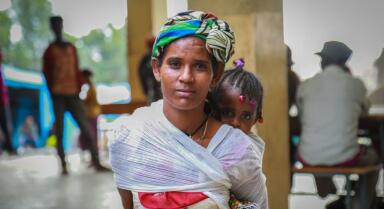 The 27 trucks delivered nearly 1,000 metric tonnes of food and other essential items to the city of Mekelle, UN Spokesperson Stéphane Dujarric told journalists in New York.
This was the fourth humanitarian convoy to reach Tigray since the transportation of aid resumed at the beginning of April, following more than three months of interruption.
Since then, 169 trucks have reached Tigray, transporting some 4,300 metric tonnes of supplies.
Mr. Dujarric said food and other aid has been dispatched from the regional capital Mekelle, to priority areas across Tigray for onward distribution, while fuel that has recently arrived is allowing for critical humanitarian operations to be expanded.
"The rate at which aid is arriving into Tigray, however, remains a small fraction of what is needed. Essential services including electricity, communications networks and banking services, remain largely cut off," he said. 
The UN and its partners continue to work with the authorities to urgently scale up deliveries of relief supplies, including seed and fertilizer ahead of the critical summer planting season.  
The deadly conflict between Ethiopian troops and local defence forces in Tigray broke out in November 2020, after months of rising tension.
Fighting has spilled over into neighbouring regions and caused wide displacement across northern Ethiopia and into Sudan.
 Mr. Dujarric said the UN is also working with authorities to expand much-needed assistance in areas of two affected regions in the north, Afar and Amhara. 
Over the past week, food partners reached some 56,000 people in Amhara. Since late December, more than 10 million people have received food assistance from the Government, the UN, or aid partners.770420Sourced from United Nations Africa Pages
The post Ethiopia: Essential aid reaches Tigray region, but more still needed appeared first on The Maravi Post.
ANA NEWS WIRE Disclaimer:
The African News Agency (ANA) is a news wire service and therefore subscribes to the highest standards of journalism as it relates to accuracy, fairness and impartiality.
ANA strives to provide accurate, well sourced and reliable information across Text, Images and Video. Where errors do appear, ANA will seek to correct these timeously and transparently.
The ANA platform also contains news and information from third party sources. ANA has sought to procure reliable content from trusted news sources but cannot be held responsible for the accuracy and opinions provided by such sources on the ANA platform or linked sites.
The content provided for on the ANA News Wire platform, both through the ANA news operation and via its third party sources, are for the sole use of authorised subscribers and partners. Unauthorised access to and usage of ANA content will be subject to legal steps. ANA reserves its rights in this regard.
ANA makes every effort to ensure that the website is up and running smoothly at all times, however ANA does not take responsibility for, and will not be held liable for times when the website is temporarily unavailable due to technical issues that are beyond our control.