Anti-terrorism conference ends in Lomé
The president of the Togolese National Assembly stressed the importance of collective response. Through this framework of exchanges, we will try to put in place a synergy of collective response to fight against terrorism with all the vigour and rigour of our determination to build a harmonious community of destiny ", said Yawa Djigbodi Tsegan, President of the…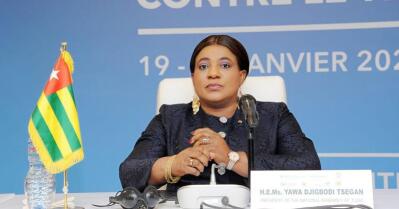 The capital of Togo hosted a two day conference dedicated to the fight against terrorism.
The meeting in Lomé was attended by more than 250 participants including presidents of national assemblies, representatives of African parliaments, youth NGOs and representatives from UN agencies.
The president of the Togolese National Assembly stressed the importance of collective response.
"The resurgence of violent acts linked to terrorism is a threat to the continent's sustainable development efforts. Through this framework of exchanges, we will try to put in place a synergy of collective response to fight against terrorism with all the vigour and rigour of our determination to build a harmonious community of destiny", said Yawa Djigbodi Tsegan, President of the Togolese National Assembly.
Africa cannot win the challenge of terrorism simply through armed response.
Improving youth-oriented initiatives will reduce the number of people joining the ranks of terrorists.
Preventing the recruitment and radicalization of young people is a challenge for the next ten years, according to this security expert.
"We have to learn a lot from terrorists. Terrorists offer young people a complete kit: an economic kit, and above all a dignity kit. This is what drives young people to join armed terrorist groups. We must reverse this trend. To reverse the trend, we need to develop the economic sector, especially the informal sector, and also self-employment. We also need a window of opportunity for young people who have fallen out so that they can return", said Savadogo Mahamoudou, expert in security policy and geostrategy.
A parliamentary working group for counterterrorism in Africa has just been set up here following discussions organized by the United Nations, the Qatar Shurad Council and the Togolese government.
This group aims to build and collaborate with resilient, empowered youth who are able to make a meaningful contribution to counterterrorism efforts.
640360Source: Africanews
ANA NEWS WIRE Disclaimer:
The African News Agency (ANA) is a news wire service and therefore subscribes to the highest standards of journalism as it relates to accuracy, fairness and impartiality.
ANA strives to provide accurate, well sourced and reliable information across Text, Images and Video. Where errors do appear, ANA will seek to correct these timeously and transparently.
The ANA platform also contains news and information from third party sources. ANA has sought to procure reliable content from trusted news sources but cannot be held responsible for the accuracy and opinions provided by such sources on the ANA platform or linked sites.
The content provided for on the ANA News Wire platform, both through the ANA news operation and via its third party sources, are for the sole use of authorised subscribers and partners. Unauthorised access to and usage of ANA content will be subject to legal steps. ANA reserves its rights in this regard.
ANA makes every effort to ensure that the website is up and running smoothly at all times, however ANA does not take responsibility for, and will not be held liable for times when the website is temporarily unavailable due to technical issues that are beyond our control.