4th edition of Africa Climate talks kicks off as the continent endures damaging weather events
African nations opened climate talks in the Mozambican capital Maputo on Wednesday to identify their priorities and come up with a common position ahead of the United Nations climate summit in Egypt in November, known as COP27. The meeting is jointly organized by the United Nations, African Union, African Development Bank and the civil society organization,…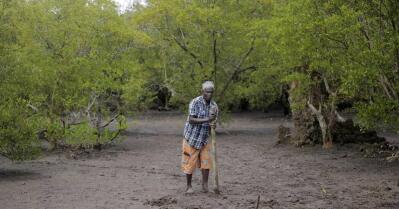 African nations opened climate talks in the Mozambican capital Maputo on Wednesday to identify their priorities and come up with a common position ahead of the United Nations climate summit in Egypt in November, known as COP27.
The meeting is jointly organized by the United Nations, African Union, African Development Bank and the civil society organization, the Pan African Climate Justice Alliance.
The talks come as the continent has grappled with devastating cyclones in the south and now faces a debilitating drought across the east and Horn of Africa. The continent of 1.2 billion people, which represents 17% of the world's population, contributes less than 4% of global greenhouse gas emissions but suffers mightily from extreme weather events, which scientists have warned will become more frequent due to climate change.
Officials are expected to decide whether to ask nations for reparations for environmental damage in Africa, known in climate circles as loss and damage.
The U.N. estimates that African nations already spend between 2% and 9% of their national income on natural disasters linked to climate change. Adapting to climate change should be a priority for the continent, Anna Tjärvar, a Swedish diplomat speaking at the forum shared.
The forum will focus on using Indigenous knowledge and land practices for conservation and adaption efforts, rather than relying on external help, said Jean-Paul Adam, the head of climate at the United Nations Economic Commission for Africa.
Indigenous voices will play a critical role in the talks, added James Murombedzi, the head of the African Climate Policy Centre. He said that their experiences will help strengthen Africa's standing at the international climate talks in November.
The talks include policy makers and regional institutions as well as grassroots activists and representatives from private sector.
640360Source: Africanews
The post 4th edition of Africa Climate talks kicks off as the continent endures damaging weather events appeared first on The Maravi Post.
ANA NEWS WIRE Disclaimer:
The African News Agency (ANA) is a news wire service and therefore subscribes to the highest standards of journalism as it relates to accuracy, fairness and impartiality.
ANA strives to provide accurate, well sourced and reliable information across Text, Images and Video. Where errors do appear, ANA will seek to correct these timeously and transparently.
The ANA platform also contains news and information from third party sources. ANA has sought to procure reliable content from trusted news sources but cannot be held responsible for the accuracy and opinions provided by such sources on the ANA platform or linked sites.
The content provided for on the ANA News Wire platform, both through the ANA news operation and via its third party sources, are for the sole use of authorised subscribers and partners. Unauthorised access to and usage of ANA content will be subject to legal steps. ANA reserves its rights in this regard.
ANA makes every effort to ensure that the website is up and running smoothly at all times, however ANA does not take responsibility for, and will not be held liable for times when the website is temporarily unavailable due to technical issues that are beyond our control.