FEATURE: Meet Morocco's first black woman boutique hotel owner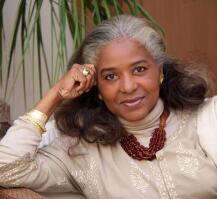 CAPE TOWN, August 9 (ANA) – Africa is home to some of the world's most powerful women. Today, we introduce to you one of Africa's true gems – Morocco's first black woman boutique hotel owner who has, over 30 years, managed to capture and fuse together oriental, African, and European influences and sensibilities into a truly extravagant world-class labour of love, often considered as the "New Moroccan Style", which has left many guests marvelling at the beauty Morocco has to offer.
Meryanne Loum-Martin says her journey in Morocco started coincidentally after her parents were looking for a holiday home in an exotic country with easy access to Paris, which is about three hours away.
She visited Marrakesh to look for land for her parents, and immediately fell in love with it, and so did her parents. She was put fully in charge of the project.
Meryanne is a self-taught interior designer who wanted to be an architect but was too bad at mathematics to graduate, so she went to law school and became a lawyer. Even though her law career was doing well in Paris, her first passion always remained design and architecture. Marrakesh gave her the opportunity to run projects from A to Z.
"Many of my friends knew that I was coming once a month to Morocco to be on the construction site, and this is when I had the idea of doing a little survey to see how people were spending their holidays.
"This is when I realised that there was a niche market for creating a hybrid concept between a private property with the impeccable service that a hotel could provide, as well as partner this with amazing activities that Marrakesh could provide," said Loum-Martin.
At this pivotal moment, she went on to present the idea to her parents by finding out how often they would holiday in Marrakesh. She then suggested to her parents that they purchase a bigger piece of land next to the one they initially bought, as it was still available, and build another house and try and launch a new, different, and personal way of spending holidays. Her parents agreed, saying that if it didn't work out, they would sell one house and keep the other.
In December 1989 she launched Dar Tamsna, which was voted by Harpers and Queen magazine in 2000 as the best private estate in the world. Dar Tamsna became successful beyond her wildest dreams. "It was so busy, my mother would call me exasperated to ask when she could go on holiday in her own house," said Loum-Martin.
She remained in Paris where she worked as a lawyer while marketing the house in her own circles. At that time there was no internet or social media, but the press was very strong.
"I was lucky to have an incredible press with the likes of Architectural Digest, Vogue Italy, Vogue France, Vogue Australia, Vogue Germany, a lot of American, European, and Australian magazines writing about the place, and that's when a lot of famous people started coming to our property, and that's when they started telling their other famous friends," Loum-Martin said.
"I never thought people like David Bowie, Mick Jagger, Brad Pitt, Georgio Armani, and Tom Cruise would be coming to my house." In those days the term "viral" didn't exist, but Dar Tamsna went viral and was the talk of the town.
One had the opportunity to rent a house or the whole estate, and only the staff and guests would be there. No paparazzi to bother the constant flow of celebrities, while the absolute privacy was the ultimate luxury for less well-known guests. Because of the quality of the service, people would say it was like having a small hotel to yourself with all the other guests chosen by you.
According to Loum-Martin, her guests were very loyal and came back often, with many saying that if they had owned a house in Marrakesh, this was how it would look.
We asked her how she felt knowing that she was the first black woman to open a boutique hotel in Morocco.
"First of all, I had the idea that this was a niche market and I felt that this is how people wanted to spend their holidays. It just happened that I thought about it and created it first. When I do something, I don't look at it as that I am the first black woman to do this; when you are in the middle of the action you just move ahead. Only once it's done I think, oh yeah, it's interesting, no one had thought about it before." The Wall Street Journal wrote "Mrs Loum-Martin was the first one to create a new type of tourism that appeals to affluent Western society".
"I am very happy that I carried the flag. I hope with some excellence. It is true that it wasn't a goal that I wanted to be the first African to do this. It is just a chronological fact and I am very happy if it can inspire others to follow their dreams and intuition. I hope that there will be more, not just in Morocco, but across the continent," she said.
Do you think Africa has what it takes to contend with the rest of the world in the hospitality industry?
"I feel that Africa has much more than the rest of the world. For many years, you had a wall between two types of holidays. People would either travel for culture or for outdoors. Culture was associated with Europe, old churches, museums and cobblestone streets. Africa was associated with landscapes, beaches and safaris. Our urban culture was denied.
"The millennial travelling or the businessman looking to escape from meetings, are interested in discovering the urban culture. African cities are now booming with art galleries, music and fashion, the urban pulse in African cities like Dakar, Nairobi, or in South Africa … is amazing, and this is modern culture. We still have the amazing outdoors, we still have the safaris and the beautiful beaches, but now full value and full visibility is given to the urban culture, because of the incredible energy and creativity in Africa, we are well placed for tourism in the future.
"The diaspora also comes back to Africa, and the diaspora arrives from Europe and the US. They also expect the same urban energy in the country where their parents or grandparents are from.
"However, I do feel that there is still a lot to be done in the boutique hotel hospitality industry in Africa. A lot has been done, but I feel that a lot more can be done. I just happen to have 30 years of expertise and credibility in this field and I would love it if investors would like me to advise or consult on hospitality projects in Africa, I would absolutely love to do that."
Do you have any advice for a young black woman in Africa who reads about your story?
"I understand that I was in a very special position because I always had a foot in all sorts of diverse and international circles, it has given me great opportunities, so I have to take this into account when giving advice to someone who maybe didn't live the same international exposure.
"To a person living in an African city thinking about how they can get into the hospitality industry, I would say two things – first get experience, second create a virtual community.
"The young people today have something that I didn't have, which is the incredible power of social media and the internet. When you start a business the question is always about the risk that you impose to your financial partners or to your own funds if you have some.
"If I were to start a hotel today I would create a virtual concept. On a virtual location with real photos of a site where I would create my own style. All with photos found on the net, mood boards, drawings, etc. Instagram or Pinterest are likely the best for this.
"To come back to the incredible power of the internet, if you want to be in the boutique hotel industry, what makes the difference is the fact that you are different, you need to cultivate your uniqueness, and what is your uniqueness is about your style, it's about architecture, about interiors, how people will be greeted, the experience you provide, the food, the innovations. etc.
"Once you have developed your followers, you could assess whether you are taking a big risk or not, if no one is interested in your idea, maybe you should think of another idea, but if people are interested in your project even before you have started it, it would be quite encouraging. Start virtually and see if you can gather people who are interested in the experience, then you create the experience for good."
What is next for you?
"My first book is coming out, 'Inside Marrakesh'. I am the first African woman published by the prestigious publishing house Rizzoli in New York in the luxury lifestyle and design department.
"The book is about fabulous houses and gardens in Marrakesh, it's a tribute to the incredible inspiration that the Marrakesh/Moroccan style is giving to foreign creative minds. A big launch is planned at the end of September in Paris, and then there are a series of virtual launches all the month of October in many cities of the US. In Marrakesh, there will be one at the Yves Saint-Laurent Museum bookstore.
"In the US I'm taking this opportunity to support black-owned bookstores. Festive beautiful zoom parties are planned all over the country. I am very excited to be connected to the African American community interested in architecture, design, travel, style and make them discover private places no one has access to unless you know the owners.
"As I am passionate about culture, I have hosted a number of cultural events over the years, I launched a pop-up called AfreeCulture last February. I am establishing it as a bigger annual event called AfreeCulture Forum.
"With 30 years of following my intuition and having set new trends at a small boutique level, I believe that there are many ways of setting trails for the tourism of the 21st century. Mine is about doing my first 5* [five star] resort. It is about integrating the local culture and traditional knowledge, in a way that has not been done by usual 5* because they often operate under a brand and the brand decisions are made by a corporate headquarter somewhere abroad. Decisions are about standardisation to cut costs. Standardisation kills the uniqueness of local culture.
"I've been wanting to do this project for a long time. I am thrilled that my project partner is an international architect specialised in 5* developments, Didier Lefort. He is the architect of iconic hotels on five continents.
The project is finished in terms of design and drawings and development, now I'm looking for finance. I also believe that businesses led by females are especially successful, probably because we are workaholics. I do hope that I will find finance to move ahead."
As a pioneer in the hotel boutique industry, in 1989 Loum-Martin managed to create a mix of private villa-exclusive hotel, in 1999 she was the first to create a super high-end concept store in a restored old grand house, and in 2001 the first to do a boutique hotel where the gardens are as important as the indoors. With over 1800 "riads" today in Marrakesh that were triggered by her first boutique hotel, she created the template for boutique hospitality, and others follow.
– African News Agency (ANA), editing by Jacques Keet
ANA NEWS WIRE Disclaimer:
The African News Agency (ANA) is a news wire service and therefore subscribes to the highest standards of journalism as it relates to accuracy, fairness and impartiality.
ANA strives to provide accurate, well sourced and reliable information across Text, Images and Video. Where errors do appear, ANA will seek to correct these timeously and transparently.
The ANA platform also contains news and information from third party sources. ANA has sought to procure reliable content from trusted news sources but cannot be held responsible for the accuracy and opinions provided by such sources on the ANA platform or linked sites.
The content provided for on the ANA News Wire platform, both through the ANA news operation and via its third party sources, are for the sole use of authorised subscribers and partners. Unauthorised access to and usage of ANA content will be subject to legal steps. ANA reserves its rights in this regard.
ANA makes every effort to ensure that the website is up and running smoothly at all times, however ANA does not take responsibility for, and will not be held liable for times when the website is temporarily unavailable due to technical issues that are beyond our control.