Two prison escapees nabbed during police operation
Two fugitives who escaped from the Waainek Correctional Centre in Makhanda were rearrested on Sunday during an intelligence driven police operation at the weekend.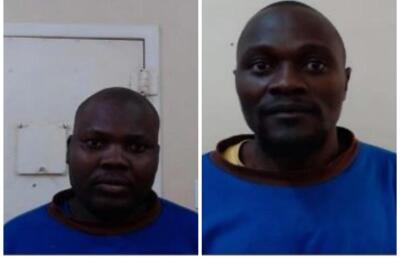 Nhamo Muyambo and Francis Chitho were rearrested after escaping from the Waainek Correctional Centre in Makhanda.
Cape Town – Two prisoners who
The police operation over the weekend was focused on suspected rhino poachers.
According to the Eastern Cape provincial police spokesperson, Warrant Officer Majola Nkohli, housebreaking tools to the value of R100,000 were also seized.
He said police received information about five suspects travelling in a silver Hyundai i10 targeting a battery tower in the Tarkastad area on Saturday, May 20. A vehicle fitting the description was spotted along the R61 towards Tarkastad, about 20 kilometres outside Komani.
"The vehicle had five occupants and was pulled off the road. Police questioned the five occupants and also requested to search," Nkohli said.
"Police seized housebreaking implements valued around R100,000. A preliminary investigation revealed that one of the occupants is wanted for a rhino poaching incident in the Western Cape. The five men were arrested and detained."
On Sunday, May 21, the fugitives were located and arrested.
"Investigations led them (police officials) to a house in Mthatha on Sunday morning, where the two suspects, who escaped from the Makhanda Correctional Facility last year, were found and rearrested. A total of seven suspects were arrested during the operation," Nkohli said.
"Some of these suspects are positively linked to at least five rhino poaching cases in the Eastern Cape."
The suspects are expected to appear in court on Tuesday.
The Department of Correctional Services (DCS) has confirmed that Nhamo Muyambo and Francis Chitho are back behind bars after their brazen escape from the facility in October last year.
"The two are part of the seven that escaped on October 18, 2022, where they were awaiting sentencing for charges related to rhino poaching," DCS said.
The other escapees include Bennet Kwarrie, Simba Masinga, Trymore Chauke, Abraham Moyane, and Luvuyo September.
While Masinga, Chauke and Moyane have already been rearrested earlier, Kwarrie and September remain at large.
"The Department of Correctional Services remains relentless in its mission to apprehend those who escape from lawful custody. It has to be emphasised that escaping from lawful custody is a criminal offence, and those aiding such acts shall be spared no mercy," the department said.
"Assistance from community members, SAPS and other law enforcement agencies has been instrumental in these rearrests. The mission is not yet complete as Luvuyo September and Bennard Kwarrile must be brought back behind bars."
Eastern Cape Police Commissioner, Lieutenant General Nomthetheleli Mene, commended the task team for their efforts and breakthrough.
"I hope these arrests will bring about a decrease in the killings of rhinos in the province," Mene said.
IOL
ANA NEWS WIRE Disclaimer:
The African News Agency (ANA) is a news wire service and therefore subscribes to the highest standards of journalism as it relates to accuracy, fairness and impartiality.
ANA strives to provide accurate, well sourced and reliable information across Text, Images and Video. Where errors do appear, ANA will seek to correct these timeously and transparently.
The ANA platform also contains news and information from third party sources. ANA has sought to procure reliable content from trusted news sources but cannot be held responsible for the accuracy and opinions provided by such sources on the ANA platform or linked sites.
The content provided for on the ANA News Wire platform, both through the ANA news operation and via its third party sources, are for the sole use of authorised subscribers and partners. Unauthorised access to and usage of ANA content will be subject to legal steps. ANA reserves its rights in this regard.
ANA makes every effort to ensure that the website is up and running smoothly at all times, however ANA does not take responsibility for, and will not be held liable for times when the website is temporarily unavailable due to technical issues that are beyond our control.