Man back in court after he was found with Esther Mahlangu's pistol
Jan Mlemani Kwati Masilela, who is out on R3 000 bail, will be back at Mdutjana Magistrate's Court today facing a charge of possession of an unlicensed firearm.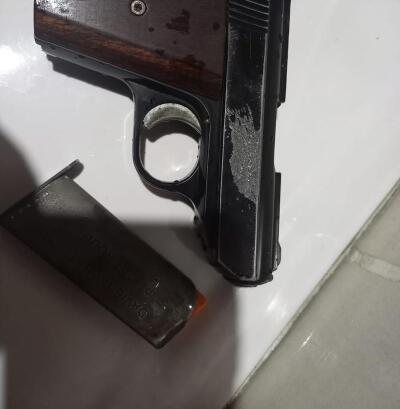 Jan Mlemani Kwati Masilela, who is out on R3 000 bail, will be back at Mdutjana Magistrate's Court today facing a charge of possession of an unlicensed firearm.
Pretoria – The 32-year-old Mpumalanga man who was arrested after being allegedly found in possession of renowned Ndebele artist Dr Nostokana Esther Mahlangu's 7.65mm pistol is set to return to court this morning.
"Jan Mlemani Kwati Masilela, who is out on R3 000 bail in the case of Dr Nostokana Esther Mahlangu, will be back at Mdutjana Magistrate's Court today, 10 May, facing a charge of possession of unlicensed firearm," said Mpumalanga police spokesperson Brigadier Selvy Mohlala.
Last month, the first suspect in the high profile matter, a 27-year-old man who allegedly confessed to breaking into Mahlangu's house and robbing the 87-year-old pensioner after assaulting her, was remanded in custody after he appeared before the Mdutjana Magistrate's Court.
The matter was postponed because the presiding magistrate had been booked off sick.
Simon Kgantshi Skosana has been in custody since March after he was apprehended by the police in Mpumalanga following the robbery and assault at Mahlangu's house.
Provincial commissioner of police in Mpumalanga, Lieutenant-General Semakaleng Daphney Manamela, previously commended the "sterling work" done by the established team of detectives since the robbery of the Ndebele artist made headlines.
The detectives arrested and charged Skosana and Masilela in connection with the robbery and physical attack on Mahlangu.
Seven suspects were brought in for questioning, and five were released after obtaining statements from them. Mohlala said the five could not be linked to the robbery.
"According to the report, police pounced on the first suspect at around 2am in the morning at Mogononong in Siyabuswa. He was found with the firearm and its serial number filed off, hidden in the toilet cistern, wrapped in plastic.
"He then pointed to the second suspect, where he bought the firearm from. The second suspect bought it from the third suspect. The third suspect pointed to the fourth suspect where he also bought it from," Mohlala said.
Police said Skosana confessed to being the one who broke into Mahlangu's house and took the firearm, money and a safe.
The safe was found at Ramokgeletsane, a few kilometres from Siyabuswa, and it had been opened with an angle-grinder, Mohlala said.
Mahlangu was assaulted during the robbery at her house in Weltevrede, near Siyabuswa, on March 19 at about 3pm.
"During the robbery, the defenceless pensioner was reportedly assaulted and strangled where her hands were tied with a cord. The suspect then searched her bedroom and took a safe containing a 7.65 mm pistol as well as an undisclosed amount of cash and bundles of keys, then fled the scene.
"She was left helpless, and she sustained some injuries on her face but was later found by her granddaughter who alerted the neighbours," Mohlala said.
Police said the two suspects had been charged with possession of an unlawful firearm and house robbery.
IOL
ANA NEWS WIRE Disclaimer:
The African News Agency (ANA) is a news wire service and therefore subscribes to the highest standards of journalism as it relates to accuracy, fairness and impartiality.
ANA strives to provide accurate, well sourced and reliable information across Text, Images and Video. Where errors do appear, ANA will seek to correct these timeously and transparently.
The ANA platform also contains news and information from third party sources. ANA has sought to procure reliable content from trusted news sources but cannot be held responsible for the accuracy and opinions provided by such sources on the ANA platform or linked sites.
The content provided for on the ANA News Wire platform, both through the ANA news operation and via its third party sources, are for the sole use of authorised subscribers and partners. Unauthorised access to and usage of ANA content will be subject to legal steps. ANA reserves its rights in this regard.
ANA makes every effort to ensure that the website is up and running smoothly at all times, however ANA does not take responsibility for, and will not be held liable for times when the website is temporarily unavailable due to technical issues that are beyond our control.