Dentist's search history reveals how he poisoned his wife's protein shakes so he could be with lover
A dentist has been arrested and charged with his wife's murder after police in the US pieced together clues from his internet search history.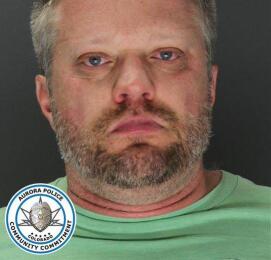 A dentist has been arrested and charged for his wife's murder after police in the US pieced together clues from his internet search history.
A dentist has been arrested and charged for his wife's murder after police in the US pieced together clues from his internet search history.
Colorado dentist James Craig allegedly laced his wife's pre-workout protein shakes with arsenic and cyanide so he could be with his lover.
According to 9News, Craig faces a charge of first-degree murder.
His wife, Angela Craig, was taken off life support earlier this month.
According to reports, Angela had been rushed to hospital after she became ill but doctors were unable to diagnose what was wrong with he.r Her husband had been on his way to meet his mistress, also a dentist.
9News said Craig's dental practice partner, Ryan Redfearn, sounded the alarm when he noticed that Craig had been ordering potassium cyanide, which they did not use for procedures. Police began to piece together the basis of their investigation, but it was Craig's Google search history, which included questions such as "Is arsenic detectable in autopsy?" and "How many grams of pure arsenic will kill a human?" that cemented the theory that he was behind his wife's death.
Investigators allege that Craig used the compound in his wife's pre-workout protein shakes which he regularly made for her. When she failed to get ill, he reportedly ordered another shipment and told the supplier it was for a surgery.
When the shipment was delivered to his dental practice, Craig reportedly ordered the office manager not to open the package, but another worker did and this led to the information being shared with police.
A delivery of another substance, oleandrin, which is found in the poisonous plant oleander, was intercepted by the police.
9News reported that Craig told Redfearn that he had ordered the potassium cyanide for his wife. He then reportedly told a social worker that Angela had asked for a divorce in December and suffered from depression, claims the couple's children have disputed.
In an affidavit, Redfearn said Craig was facing bankruptcy and had been having marital problems.
Craig, 45, has since appeared in the Arapahoe County District Court in Colorado. According to abcNEWS, Craig waived his rights to a preliminary hearing and is due back in court on April 17.
ANA NEWS WIRE Disclaimer:
The African News Agency (ANA) is a news wire service and therefore subscribes to the highest standards of journalism as it relates to accuracy, fairness and impartiality.
ANA strives to provide accurate, well sourced and reliable information across Text, Images and Video. Where errors do appear, ANA will seek to correct these timeously and transparently.
The ANA platform also contains news and information from third party sources. ANA has sought to procure reliable content from trusted news sources but cannot be held responsible for the accuracy and opinions provided by such sources on the ANA platform or linked sites.
The content provided for on the ANA News Wire platform, both through the ANA news operation and via its third party sources, are for the sole use of authorised subscribers and partners. Unauthorised access to and usage of ANA content will be subject to legal steps. ANA reserves its rights in this regard.
ANA makes every effort to ensure that the website is up and running smoothly at all times, however ANA does not take responsibility for, and will not be held liable for times when the website is temporarily unavailable due to technical issues that are beyond our control.