Crackdown on illegal electrical connections in Philippi
A truckload of cables illegally connected to the City of Cape Town's electricity system was removed from Philippi and surrounding areas.
A truckload of cables illegally connected to the City of Cape Town's electricity system was removed from Philippi and surrounding areas.
Cape Town – The City of Cape Town, SAPS and Law Enforcement members carried out an illegal connection removal operation in Philippi.
A truckload of cables illegally connected to the City of Cape Town's supply infrastructure was removed from several informal settlements in Philippi and surrounding areas.
All confiscated material will be destroyed.
According to the City, it is intensifying its efforts by carrying out regular operations to remove illegal electricity connections in the metro's hotspots.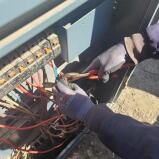 Mayoral committee member for energy, Beverley van Reenen, said the City was serious about protecting its critical infrastructure and the community and vandalism of the electricity network would not be tolerated.
"Illegal connections leave whole communities in darkness due to the overloaded connections that trip. Exposed live wires are also unsafe – often placing the lives of children at risk.
"Philippi, Mitchells Plain and the surrounding areas have been hit hard due to electricity vandalism and this often causes prolonged electricity outages in these areas. The City wishes to be clear, we will not allow these acts of criminality to have an impact on the supply to residents.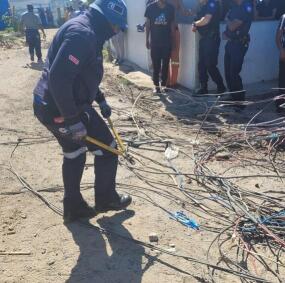 "We thank all teams and the South African Police Service for assisting the City with this successful operation," van Reenen said.
She said the work would continue and areas across the metro were being monitored.
"Residents may report illegal connections and vandalism to the City and the SAPS," she said.
The City of Cape Town is offering a reward to anyone who provides information that leads to an arrest, the confiscation of stolen or illegal goods or the handing in of illegal or stolen goods.
The reward is also applicable to information leading to the arrest of people vandalising, damaging or stealing electricity infrastructure or installing illegal connections.
Damage to municipal electrical infrastructure can be reported by sending an SMS to 31220 or emailing [email protected]
Residents can report crime and by-law offences anonymously, 24 hours a day, at 0800 1100 77.
IOL
ANA NEWS WIRE Disclaimer:
The African News Agency (ANA) is a news wire service and therefore subscribes to the highest standards of journalism as it relates to accuracy, fairness and impartiality.
ANA strives to provide accurate, well sourced and reliable information across Text, Images and Video. Where errors do appear, ANA will seek to correct these timeously and transparently.
The ANA platform also contains news and information from third party sources. ANA has sought to procure reliable content from trusted news sources but cannot be held responsible for the accuracy and opinions provided by such sources on the ANA platform or linked sites.
The content provided for on the ANA News Wire platform, both through the ANA news operation and via its third party sources, are for the sole use of authorised subscribers and partners. Unauthorised access to and usage of ANA content will be subject to legal steps. ANA reserves its rights in this regard.
ANA makes every effort to ensure that the website is up and running smoothly at all times, however ANA does not take responsibility for, and will not be held liable for times when the website is temporarily unavailable due to technical issues that are beyond our control.