Court strikes R2.2 billion case against Matshela Koko off the roll over 'unreasonable delays'
The matter against former Eskom boss Matshela Koko has been struck off the roll.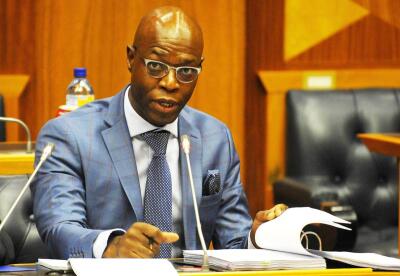 The Middelburg Specialised Commercial Crimes Court has struck off the roll the matter against former Eskom boss Matshela Koko and several others, including his wife and stepdaughters, due to back-to-back delays. Charges could be reinstated at another time.
The matter against former Eskom boss,
Koko, his wife Mosima Koko, stepdaughters Koketso Aren and Thato Choma, as well as former SA Local Government Association (Salga) Chief Executive Thabo Mokwena, Eskom Project Director at Kusile Hlupheka Sithole, Johannes Coetzee, Watson Seswai, and Lese'tsa Johannes Mutchinya, appeared in the Middelburg Specialised Commercial Crimes Court on Tuesday.
The court struck the matter off the roll, adding that there have been unreasonable delays in the case.
In short, the ruling means that the charges against the accused do not deem them innocent or guilty, but rather that charges can be brought against the accused at a later stage.
The matter has seen several delays leading to an application for it to be struck from the roll.
It was previously reported that the accused face charges of fraud, corruption, and money laundering arising from alleged irregular contracts granted for the building of Kusile power station, valued at over R2 billion.
The accused allegedly entered into a multi-billion rand contract between Eskom and Swiss engineering company Asea Brown Bovei (ABB) back in 2015.
Meanwhile, Koko issued a statement stating that the National Prosecuting Authority misdirected itself by charging him.
"It did not act without fear, favour or prejudice. They were doing somebody a favour. What is hurtful to me is that the NPA was commended by well-respected constituencies in our society for the unlawful arrests," he said.
He added that he was convinced that South Africans have an exaggerated sense of the rule of law.
"They don't think my family has rights as in the Bill of Rights. This is a persecution. That is why the banks have terminated my family's bank accounts because of this criminal matter.
"The aim is to destroy and liquidate my family without the benefit of a fair trial. I have been rendered stateless in my country of birth. What happened to me and my family is a hate crime. I don't wish it on anyone," Koko said.
He said he looks forward to living his life as a private citizen and doing the best he can for my family.
"The damage done to my family is immeasurable," Koko said.
IOL