India's Covid-19 cases surge by global high of 300,000
India has announced more than 300,000 new coronavirus cases in 24 hours as hospitals grapple with a lack of oxygen supply.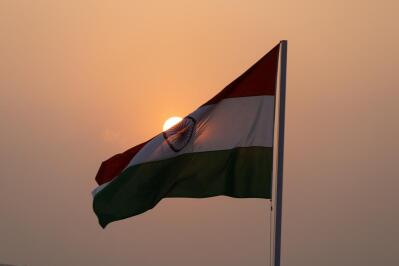 CAPE TOWN, April 22 (ANA) – India has recorded more than 300,000 new coronavirus cases, the highest single-day spike seen anywhere in the world since the pandemic started, as well as the highest number of fatalities in 24 hours.
According to Al Jazeera, India's daily increase of 314,835 cases surpassed the previous record of 297,430 cases set by the United States in January.
In less than a week, almost 1.6 million Covid-19 cases have been reported for a total of more than 15 million cases.
The dramatic rise in numbers has been attributed to inadequate safety precautions, a Hindu festival that was attended by millions, and a "double mutant" variant of the coronavirus.
"The second wave is a consequence of complacency and mixing and mass gatherings. You don't need a variant to explain the second wave," said Ramanan Laxminarayan of the Center for Disease Dynamics, Economics and Policy in New Delhi.
According to Manish Sisodia, New Delhi's deputy chief minister, several hospitals in the city were running out of oxygen, and officials in neighbouring states were halting deliveries to the capital to save it for their own needs.
Wang Wenbin, a spokesperson for the foreign ministry, said China was aware of the severity of the recent outbreak in India and was willing to provide help and support, but there was a temporary shortage of appropriate materials for epidemic prevention, according to Al Jazeera.
In a nationwide address on Tuesday night, India's Prime Minister Narendra Modi attempted to lift morale by stating that the government and the pharmaceutical industry were speeding up efforts to address shortages of hospital beds, oxygen, tests and vaccines.
The "surge in infections has come like a storm, and a big battle lies ahead," Modi said.
On Thursday, health officials in northern and western India, including New Delhi, declared a state of emergency, claiming that most hospitals were overcrowded and running out of oxygen.
The city needs about 5,000 more intensive care unit (ICU) beds than it can find, according to Delhi Health Minister Satyendar Jain.
According to Al Jazeera, a leak caused the oxygen supply to their ventilators to run out on Wednesday in Maharashtra, killing at least 22 patients in western India.
Some doctors advised patients to stay at home. At the same time, a crematorium in Muzaffarpur, India's eastern capital, said it was overrun with bodies, and mourning families would have to wait their turn.
Authorities in Maharashtra, the worst-affected district, have declared new regulations that will take effect on Thursday evening. Maharashtra was still under a partial lockdown, according to the BBC.
The crisis has been compared to an "economic emergency" by India's Supreme Court, which has ordered the federal government to devise a national programme for oxygen supply, critical medicines, and vaccines.
More than 130 million vaccine doses have been distributed in India, but the campaign is open only to health professionals, front-line workers and people over the age of 45 years.
Pfizer reported on Thursday that it was in talks with the Indian government about supplying its Covid-19 vaccine at a non-profit expense.
– African News Agency (ANA); Editing by Yaron Blecher
ANA NEWS WIRE Disclaimer:
The African News Agency (ANA) is a news wire service and therefore subscribes to the highest standards of journalism as it relates to accuracy, fairness and impartiality.
ANA strives to provide accurate, well sourced and reliable information across Text, Images and Video. Where errors do appear, ANA will seek to correct these timeously and transparently.
The ANA platform also contains news and information from third party sources. ANA has sought to procure reliable content from trusted news sources but cannot be held responsible for the accuracy and opinions provided by such sources on the ANA platform or linked sites.
The content provided for on the ANA News Wire platform, both through the ANA news operation and via its third party sources, are for the sole use of authorised subscribers and partners. Unauthorised access to and usage of ANA content will be subject to legal steps. ANA reserves its rights in this regard.
ANA makes every effort to ensure that the website is up and running smoothly at all times, however ANA does not take responsibility for, and will not be held liable for times when the website is temporarily unavailable due to technical issues that are beyond our control.