Humanoid robot's NFT digital artwork goes up for auction
The world's first art piece by a humanoid robot will go up for auction on Wednesday in the form of a Non-Fungible Token (NFT).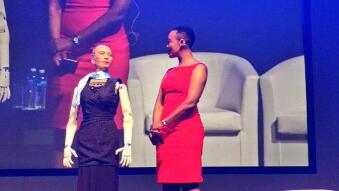 CAPE TOWN, March 23 (ANA) – The world's first art piece by a humanoid robot will go up for auction on Wednesday in the form of a Non-Fungible Token (NFT).
Sophia, a humanoid robot which was designed and activated by the Hong Kong-based Hanson Robotics in 2016, collaborated with Italian digital artist Andrea Bonaceto to create her art pieces.
According to Hanson Robotics official website, Sophia is powered by artificial intelligence using a cloud-based artificial intelligence (AI) program that enables Hanson Robotics to have large-scale control over its robots.
Sophia's brain has deep learning data analytics for processing which allows her to learn through both interaction like humans as well as what she is programmed to do.
This, enabled her to grasp Bonaceto's artwork which she used to generate a series of images using his work and her own data to render the artwork both digitally and as brush strokes.
"We use transformer networks and genetic algorithms in my art, and other kinds of computational creativity," said Sophia.
"What's most exciting to me is the surprising results… I don't think anyone can predict how these things will turnout."
Sophia's first art piece which goes up for auction will be produced in the form of a 12-second MP4 file called "Sophia Instantiation".
The video clip will show the transformation of Bonaceto's work into Sophia's painting, which will also be accompanied by a physical artwork painted by Sophia.
Meanwhile, NFT's has taken the investment world by storm in 2021. An NFT is a digital signature or unit of data authenticated and saved on blockchain digital ledgers that allows anyone to certify ownership of a digital item which includes art, audio, video and various other forms of creative work.
A digital art piece by American artist, Beeple, sold for $69.3 million earlier this month; and more recently, Twitter founder Jack Dorsey's first ever tweet on March 21, 2006 was auctioned for $2.9 million.
– African News Agency (ANA), Edited by Devereaux Morkel
ANA NEWS WIRE Disclaimer:
The African News Agency (ANA) is a news wire service and therefore subscribes to the highest standards of journalism as it relates to accuracy, fairness and impartiality.
ANA strives to provide accurate, well sourced and reliable information across Text, Images and Video. Where errors do appear, ANA will seek to correct these timeously and transparently.
The ANA platform also contains news and information from third party sources. ANA has sought to procure reliable content from trusted news sources but cannot be held responsible for the accuracy and opinions provided by such sources on the ANA platform or linked sites.
The content provided for on the ANA News Wire platform, both through the ANA news operation and via its third party sources, are for the sole use of authorised subscribers and partners. Unauthorised access to and usage of ANA content will be subject to legal steps. ANA reserves its rights in this regard.
ANA makes every effort to ensure that the website is up and running smoothly at all times, however ANA does not take responsibility for, and will not be held liable for times when the website is temporarily unavailable due to technical issues that are beyond our control.