Five small children found abandoned at US-Mexico border
The children were identified as three Honduran nationals aged 2, 3 and 7, and two Guatemalan nationals, aged 5 and 11 months.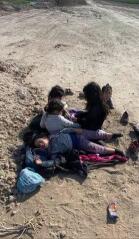 PRETORIA, May 12 (ANA) – Five children aged 11 months to 7 years old were found abandoned along the Texas-Mexico border, CNN quoted the US Customs and Border Protection (CBP) as saying on Wednesday.
The US broadcaster said a border patrol agent responded to a call from a Maverick County constable concerning the children on Sunday.
The agent found five girls aged 7, 3, and 2 years old from Honduras, and a 5-year-old and 11-month-old from Guatemala.
CNN quoted Guatemala's Foreign Ministry as saying that the smugglers abandoned the girls near the Rio Grande.
In a video posted on Twitter by Republican Congressman Tony Gonzales, a farmer said he was driving around on Sunday morning when he spotted the girls by themselves.
"I saw the five little girls all by themselves, one was crying, one did not have clothes on, not even old enough to walk, crawling around."
He said while he waited for officials to come through, he stayed with the girls and called his friend to bring water and food.
"It is heartbreaking to find such small children fending for themselves in the middle of nowhere," said patrol agent Austin L. Skero II in a statement posted on the CBP website.
"Unfortunately, this happens far too often now. If not for our community and law-enforcement partners, these little girls could have faced the more than 100-degree temperatures with no help."
CNN said upon questioning, the 5-year-old girl looked among their belongings and found a phone number of a family member that was supposed to receive them in the US.
The broadcaster added that the baby had a phone number written down with a marker on her diaper and CBP officials were able to reach a family member to confirm their nationality.
ABC News reported that the children did not require medical attention and were transported to the Uvalde Station for processing. They were later taken to the Department of Health and Human Services on Tuesday.
– African News Agency (ANA); Editing by Yaron Blecher
ANA NEWS WIRE Disclaimer:
The African News Agency (ANA) is a news wire service and therefore subscribes to the highest standards of journalism as it relates to accuracy, fairness and impartiality.
ANA strives to provide accurate, well sourced and reliable information across Text, Images and Video. Where errors do appear, ANA will seek to correct these timeously and transparently.
The ANA platform also contains news and information from third party sources. ANA has sought to procure reliable content from trusted news sources but cannot be held responsible for the accuracy and opinions provided by such sources on the ANA platform or linked sites.
The content provided for on the ANA News Wire platform, both through the ANA news operation and via its third party sources, are for the sole use of authorised subscribers and partners. Unauthorised access to and usage of ANA content will be subject to legal steps. ANA reserves its rights in this regard.
ANA makes every effort to ensure that the website is up and running smoothly at all times, however ANA does not take responsibility for, and will not be held liable for times when the website is temporarily unavailable due to technical issues that are beyond our control.