Feature: Vietnam Covid-19 vaccine latest
Vietnam has procured Pfizer, Covax, Moderna, Sputnik and AstraZeneca, as well as homegrown Nanocovax.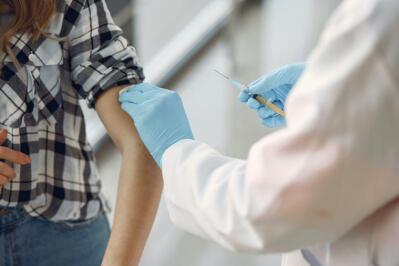 CAPE TOWN, March 17 (ANA) – Vietnam is currently engaging in negotiations to purchase vaccines from Johnson & Johnson and import a significant quantity of vaccines from Pfizer-BioTech in the US, and Moderna, Health Minister Nguyen Thanh Long said.
Mass vaccinations in Vietnam begun on March 8, with medical personnel and other front-line employees receiving the vaccine.
So far, nearly 16,000 front line health workers have received their AstraZeneca vaccine shot in 12 different areas of Vietnam.
"The containment of the pandemic depends largely on the development of vaccines," the Vietnamese Health Ministry said in a statement.
On Tuesday, the Vietnam Health Ministry said that Nanocovax, the country's first Covid-19 vaccine produced for use within its borders, will be ready by the fourth quarter of this year and placed into general use by the end of 2022.
Three volunteers were given a 25mcg dose of Nanocovax, the first Vietnamese Covid-19 vaccine to be tested on humans in December, and they were given their second shot on Tuesday.
The second vaccine, according to Professor Đỗ Quyết, of the Vietnam Military Medical University in Hà Ni, comes 28 days after the first, Viet Nam News reported.
Vietnam has requested 30 million doses of Nanocovax, and 117,600 arrived late last month.
The government previously said it would acquire 150 million vaccine doses from Covax.
In the next four months, the nation will receive an additional 4.1 million doses of Covax.
Russia has provided Vietnam with a Sputnik V Covid-19 vaccine batch handed over by the Secretary of the Russian Security Council Nikolai Patrushev.
Last month, Vietnam approved Sputnik V Covid-19 vaccines from Russia for use in emergencies.
The Russian Sputnik V Covid-19 vaccine is 91.6 percent successful, according to The Lancet medical journal.
Vietnam has experienced the first case of severe anaphylaxis caused by the AstraZeneca vaccine, Covid-19, a week after beginning vaccination.
Anaphylactic shock is a severe allergic reaction that happens rapidly and can result in fatality.
According to reports, eight hours after the jab was administered, the individual whose identity has not been released, encountered anaphylaxis (convulsions, accompanied by trembling, then numbness in the hands) and extreme stomach cramps, and paralysis, developed after having their first dose.
On Sunday, another person who was vaccinated experienced dizziness, restlessness, and irritability. Both patients are currently being treated in hospital. A further 12 patients suffered from second-degree anaphylaxis but soon returned to good health after medical intervention.
The individuals who suffered from anaphylaxis were among 1,382 who were vaccinated on Sunday, the national Expanded Program on Immunization said.
– African News Agency (ANA); Editing by Devereaux Morkel
ANA NEWS WIRE Disclaimer:
The African News Agency (ANA) is a news wire service and therefore subscribes to the highest standards of journalism as it relates to accuracy, fairness and impartiality.
ANA strives to provide accurate, well sourced and reliable information across Text, Images and Video. Where errors do appear, ANA will seek to correct these timeously and transparently.
The ANA platform also contains news and information from third party sources. ANA has sought to procure reliable content from trusted news sources but cannot be held responsible for the accuracy and opinions provided by such sources on the ANA platform or linked sites.
The content provided for on the ANA News Wire platform, both through the ANA news operation and via its third party sources, are for the sole use of authorised subscribers and partners. Unauthorised access to and usage of ANA content will be subject to legal steps. ANA reserves its rights in this regard.
ANA makes every effort to ensure that the website is up and running smoothly at all times, however ANA does not take responsibility for, and will not be held liable for times when the website is temporarily unavailable due to technical issues that are beyond our control.