FEATURE: US and China make joint statement to tackle climate crises
The US and China agreed to tackle climate change ahead of the Earth Day Summit on April 22.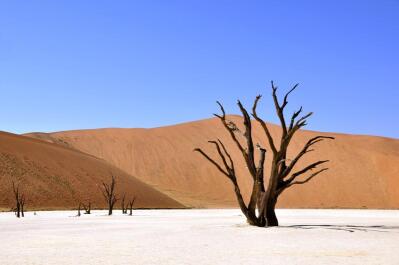 CAPE TOWN, April 18 (ANA) – Despite rising tensions between the two nations, the United States of America and China have agreed to work together on climate change after meeting in Shanghai.
The US President Joseph Biden has invited 40 world leaders, including China's President Xi Jinping, to attend a two-day virtual summit on Earth Day, April 22, to galvanise global efforts to tackle climate change ahead of crucial United Nations talks organised by the UK this year, according to The Guardian.
World leaders expected to attend the summit are Indian Prime Minister Narendra Modi and Russian President Vladimir Putin.
"Both countries look forward to the US-hosted Leaders Summit on Climate on April 22," the joint statement said.
"They share the summit's goal of raising global climate ambition on mitigation, adaptation, and support on the road to COP 26 in Glasgow."
The announcement followed two days of discussions about climate change between US Special Presidential Envoy for Climate John Kerry and China Special Envoy for Climate Change Xie Zhenhua in Shanghai on Thursday and Friday, CNN reported.
According to CNN, Biden has taken a more aggressive approach on climate change than his predecessor Donald Trump and is planning to partner with Beijing to reduce greenhouse emissions while keeping a steady stance on commerce, infrastructure, and human rights concerns.
The joint statement outlined several potential areas of collaboration between the United States and China, the world's two largest economies, which collectively account for about half of all greenhouse gas emissions that contribute to climate change.
Despite high tensions, Kerry's meeting in China was the first official visit from Biden's administration, signalling optimism that the two countries will work closely on the global climate crises.
The two countries "are committed to cooperating and with other countries to tackle the climate crisis, which must be addressed with the seriousness and urgency that it demands," the statement said.
The United States is the world's largest carbon emitter, led by China.
"We've had too much coal, other countries have too much coal, but China is the biggest, biggest coal user in the world. And because it's such a big and powerful economy and country, it needs to move," Kerry said in Seoul on Sunday, according to Associated Press.
Last year, Xi claimed that China would be carbon-neutral by 2060 and that its emissions would plateau by 2030.
The joint statement further emphasised, "enhancing their respective actions and cooperating in multilateral processes, including the United Nations Framework Convention on Climate Change and the Paris Agreement".
"China and the United States are firmly committed to working together and with other Parties to strengthen implementation of the Paris Agreement," the statement said.
The Paris Agreement seeks to limit global surface temperature rise to 1.5°C (2.7°F) above pre-industrial levels, or to 2°C (3.6°F) above pre-industrial levels if that is not possible, according to a report released by the Council on Foreign Relations.
The EU, the world's third-largest emitter, has already submitted its revised nationally determined contributions (NDCs), which set a goal of cutting emissions by 55 per cent below 1990 levels by 2030, up from a target of 40 per cent. The EU aspires to be fossil-free by 2050, much like the United States.
– African News Agency (ANA); Editing by Devereaux Morkel
ANA NEWS WIRE Disclaimer:
The African News Agency (ANA) is a news wire service and therefore subscribes to the highest standards of journalism as it relates to accuracy, fairness and impartiality.
ANA strives to provide accurate, well sourced and reliable information across Text, Images and Video. Where errors do appear, ANA will seek to correct these timeously and transparently.
The ANA platform also contains news and information from third party sources. ANA has sought to procure reliable content from trusted news sources but cannot be held responsible for the accuracy and opinions provided by such sources on the ANA platform or linked sites.
The content provided for on the ANA News Wire platform, both through the ANA news operation and via its third party sources, are for the sole use of authorised subscribers and partners. Unauthorised access to and usage of ANA content will be subject to legal steps. ANA reserves its rights in this regard.
ANA makes every effort to ensure that the website is up and running smoothly at all times, however ANA does not take responsibility for, and will not be held liable for times when the website is temporarily unavailable due to technical issues that are beyond our control.