FEATURE: Russia and Ukraine potentially preparing for war
Ukrainian President Volodymyr Zelensky visited troops on Tuesday as videos circulated showing Russia building up its military presence along the border with Ukraine.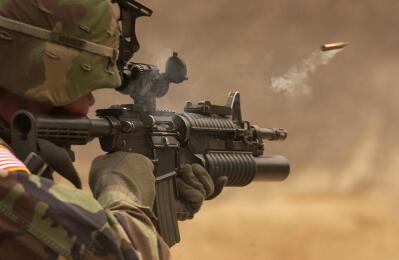 CAPE TOWN, April 13 (ANA) – The G7 leading economic powers on Monday warned Russia to "cease its provocations" along Ukraine's border.
Seven foreign ministers, including top diplomats from the United States, Germany and the United Kingdom, said the build-up of Russian armed forces on Ukraine's borders and in Crimea was "deeply concerning", according to AFP.
"These large-scale troop movements, without prior notification, represent threatening and destabilising activities," the statement said.
According to Ukrainian officials, Ukraine's President Volodymyr Zelensky is scheduled to travel to Paris soon for talks with French President Emmanuel Macron to discuss the build-up.
Military experts and political analysts agree that the Kremlin's war preparations are well under way.
According to the Financial Times, Kyiv has accused Moscow of obstructing efforts to start bilateral talks to address the escalating crisis triggered by Russian military forces' deployment along the Ukrainian border.
"All signs indicate that military action is unavoidable," Nikolay Mitrokhin, a researcher at Germany's Bremen University, said to Al Jazeera.
Videos were circulating on social media, showing tanks in the south-western Krasnodar area and armoured personnel carriers in the western Russian city of Voronezh, which is close to the Ukrainian border.
Moscow has not denied deploying troops to its border but has stated that it is not seeking war.
Dmitry Peskov, a spokesperson for Russian President Vladimir Putin, said that moving troops around Russian territories was an "internal matter".
According to an exclusive report from CNN, Zelensky visited troops alongside the Russia/Ukraine border on Tuesday.
"If I visit a military base, the guys at the very front will hear about it and think I forgot about them; they need to know they have political support," Zelensky told CNN.
The US has weighed in on the matter.
"I have to tell you I have real concerns about Russia's actions on the borders of Ukraine," US Secretary of State Antony Blinken told NBC.
British defence secretary Dominic Raab urged Russia to "immediately de-escalate the situation".
"Putin has made a preliminary decision to start a low-intensity local war within the separatist regions," Ihor Romanenko, a retired lieutenant-general and Ukraine's former deputy chief of staff, told Al Jazeera.
Russia and Ukraine are working closely with Germany, France and Turkey to find a diplomatic solution.
Political advisers to the leaders of Russia, Germany, France and Ukraine, known as the "Normandy Four", are working on hosting a summit in the Donbas region of eastern Ukraine, according to Xinhua.
"This is very difficult contact and it requires great patience from all the four sides," Peskov said.
In February last year, Zelensky levied sanctions on Viktor Medvedchuk, an influential Ukrainian oligarch and a close ally of Putin, according to the BBC.
Three pro-Russian television channels controlled by Medvedchuk were also barred from broadcasting in Ukraine.
Putin is godfather to Medvedchuk's daughter.
Similar troop and artillery preparations occurred in late 2013 and early 2014, leading up to Russia's annexation of Crimea and a conflict that killed more than 13,000 civilians, uprooted hundreds of thousands and crippled Ukraine's economy.
– African News Agency (ANA); Editing by Yaron Blecher
ANA NEWS WIRE Disclaimer:
The African News Agency (ANA) is a news wire service and therefore subscribes to the highest standards of journalism as it relates to accuracy, fairness and impartiality.
ANA strives to provide accurate, well sourced and reliable information across Text, Images and Video. Where errors do appear, ANA will seek to correct these timeously and transparently.
The ANA platform also contains news and information from third party sources. ANA has sought to procure reliable content from trusted news sources but cannot be held responsible for the accuracy and opinions provided by such sources on the ANA platform or linked sites.
The content provided for on the ANA News Wire platform, both through the ANA news operation and via its third party sources, are for the sole use of authorised subscribers and partners. Unauthorised access to and usage of ANA content will be subject to legal steps. ANA reserves its rights in this regard.
ANA makes every effort to ensure that the website is up and running smoothly at all times, however ANA does not take responsibility for, and will not be held liable for times when the website is temporarily unavailable due to technical issues that are beyond our control.