FEATURE: Myanmar marks its bloodiest day yet
Detained Myanmar leader Aung San Suu Kyi's case was postponed following 44 more fatalities and a nation-wide internet blackout.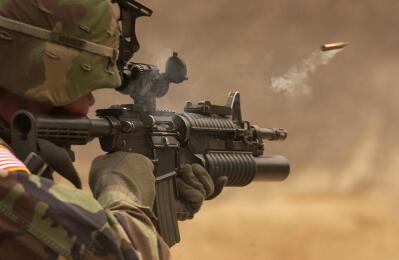 CAPE TOWN, March 15 (ANA) – Sunday, the deadliest day of the Myanmar uprising yet, saw security forces shooting live rounds at pro-democracy demonstrators while many Chinese-owned factories in Yangon's textile district were set on fire.
According to the Assistance Association for Political Prisoners (AAPP) monitoring group, at least 44 demonstrators were killed on Sunday as security forces cracked down on anti-coup protests, bringing the overall death toll to more than 120.
A video court appearance by ousted Burmese leader Aung San Suu Kyi was cancelled on Monday, March 15, due to a nationwide blackout on mobile data networks, according to Al Jazeera.
The court postponed her case until March 24, as confirmed by Khin Maung Zaw, the head of Suu Kyi's legal team.
However, the trial has allegedly started secretly, and media reports have said that it has started a day early, without her lawyer's knowledge.
The nationwide shutdown of internet access has drawn intense criticism.
Previously, the Ministry of Transport and Communications in Myanmar briefly suspended Facebook due to propaganda fears. Pro-democracy protesters have taken to TikTok to leak videos of the violence and chaos to the media.
Suu Kyi, who has been in hiding since being taken into detention, is currently facing several charges: using unauthorised walkie-talkies, breaching coronavirus procedures (violating Article 25 of the National Disaster Management Law), and recent allegations of accepting 11kg gold and cash bribes of illicit payments totalling US$600,000, according to the BBC.
The accusation is the military's most serious since overthrowing Suu Kyi and the country's political leadership in a coup d'état led by General Min Aung Hlaing on February 1.
The new allegations mean that the detained leader Suu Kyi may face harsher charges.
Two weeks ago, previously Suu Kyi briefly appeared in court in the capital city of Myanmar before the case was postponed and was the first time she had been seen in public.
According to NDTV, President Win Myint and other cabinet ministers of the National Leauge of Democracy (NLD) have been accused of corruption, according to Brigadier General Zaw Min Tun.
Two NLD leaders died in custody last week, and media reports speculated based on family testimonies that they were tortured to death.
Mr Shein Win, who was also of the Muslim faith, and Mr Khin Maung Latt were being held in the police station in the Pabedan district in Myanmar before they died in custody.
Pro-democracy protesters are still demanding Suu Kyi's freedom and the restoration of democracy amid the military junta's increasingly violent attempts to halt nationwide demonstrations.
Over the past six weeks, Myanmar has become a war scene of bloodshed and violence from the military junta, which some have said is nothing short of a "killing spree.'
Peaceful protesters have been killed in violent clashes, with the military dispersing large crowds by shooting rubber bullets, live rounds of ammunition, stun grenades and tear gas.
The military junta imposed an overnight curfew, forcefully breaking into homes, searching for pro-democracy protesters.
Hundreds of pro-democracy protesters have been arrested. Among those are six journalists arrested currently being held at Insein prison in Myanmar's largest city, Yangon.
Masses of Burmese civilians are still protesting the release of the deposed leader Suu Kyi in defiance of a dictatorship and military regime.
Suu Kyi was previously awarded the Nobel Peace Prize for her contributions to Burma.
Despite numerous rumours of her role in the Rohingya genocides, her Nobel Peace Price was not withdrawn despite wide-spread international outrage.
The International Court of Justice opened a trial surrounding the suspected genocidal massacres in Myanmar of Rohingya Muslims. The trial started in 2019, on December 12, several months before the coup d'etat by the military.
The United Nations fear that if the military junta are not stopped, they will continue gross human rights violations and more innocent protesters' deaths.
– African News Agency (ANA); Editing by Naomi Mackay
ANA NEWS WIRE Disclaimer:
The African News Agency (ANA) is a news wire service and therefore subscribes to the highest standards of journalism as it relates to accuracy, fairness and impartiality.
ANA strives to provide accurate, well sourced and reliable information across Text, Images and Video. Where errors do appear, ANA will seek to correct these timeously and transparently.
The ANA platform also contains news and information from third party sources. ANA has sought to procure reliable content from trusted news sources but cannot be held responsible for the accuracy and opinions provided by such sources on the ANA platform or linked sites.
The content provided for on the ANA News Wire platform, both through the ANA news operation and via its third party sources, are for the sole use of authorised subscribers and partners. Unauthorised access to and usage of ANA content will be subject to legal steps. ANA reserves its rights in this regard.
ANA makes every effort to ensure that the website is up and running smoothly at all times, however ANA does not take responsibility for, and will not be held liable for times when the website is temporarily unavailable due to technical issues that are beyond our control.