FEATURE: China and Russia hit with sanctions
China's and Russia's foreign ministers held a bilateral meeting this week, requesting the United Nation to intervene after recent sanctions.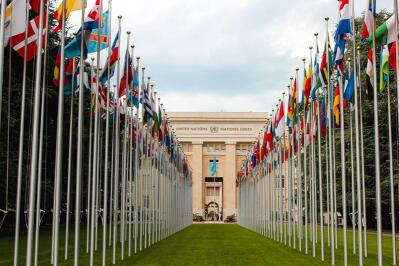 CAPE TOWN, March 23 (ANA) – Beijing and Moscow, which have been accused of human rights violations, have accused the United States (US) and Europe of intervening with their internal affairs.
At a meeting this week, China's and Russia's foreign ministers reaffirmed their countries' strong relations in a bilateral meeting.
According to Al Jazeera, following talks in Guilin between Russian Foreign Minister Sergei Lavrov and his Chinese counterpart, Wang Yi, the two allies, issued a joint statement saying ties with the West are "strained."
Outside sniping at their oppressive political regimes was dismissed by Wang Yi and Lavrov, who said they were trying to advance global progress on topics ranging from climate change to the coronavirus pandemic.
According to Lavrov, the countries should cooperate and strengthen their scientific and technological independence.
On the first day of his two-day visit to China, Lavrov called on Moscow and Beijing to reduce their reliance on the US dollar.
"Russia's suggestion will receive a positive response from China as both sides have already realised the huge risk of over reliance on the US dollar and Western-controlled payment system," said Yang Jin, to The Global Times.
To make bilateral trade settlements easier, a number of Russian banks have entered the China International Payment System.
"China and Russia, standing shoulder to shoulder with close cooperation and firm opposition to hegemony and bullying, have been a pillar of world peace and stability," spokesperson Hua Chunying said to The Global Times.
Wang and Lavrov also urged the US to rejoin the Iran nuclear deal.
Both Russia and China have strong links to Tehran, with whom they share a firm stance against any international interference.
According to a Chinese Foreign Ministry statement, the two foreign ministers also addressed the Afghan peace process, Syria, and conflict in Myanmar's situation.
The US, the European Union (EU), the United Kingdom, and Canada placed sanctions on a handful of Chinese officials on Monday for suspected human rights violations in Xinjiang.
Russia is also bracing for another round of US sanctions as a result of what Washington claims is Russian interference in the 2020 presidential election, which Moscow denies according to Channel News Asia.
Soon after the announcement of the EU sanctions on China, Wang sharply criticised the moves, warning they would "not be embraced by the international community".
"This move, based on nothing but lies and disinformation, disregards and distorts facts," said China's foreign ministry in a statement.
Russia and China have asked the United Nations (UN) to intervene, requesting a meeting of permanent UN Security Council members in the face of "heightened diplomatic turbulence."
To promote foreign relations' democratisation, Wang and Lavrov said that all countries should adhere to the UN Charter's principles.
"At a time of increasing global political turbulence, a summit of the UN Security Council's permanent members is particularly necessary," said the statement on the Russian foreign ministry's website, according to Channel News Asia.
Both Russia and China form a part of BRICS.
African News Agency (ANA); Editing by Naomi Mackay
ANA NEWS WIRE Disclaimer:
The African News Agency (ANA) is a news wire service and therefore subscribes to the highest standards of journalism as it relates to accuracy, fairness and impartiality.
ANA strives to provide accurate, well sourced and reliable information across Text, Images and Video. Where errors do appear, ANA will seek to correct these timeously and transparently.
The ANA platform also contains news and information from third party sources. ANA has sought to procure reliable content from trusted news sources but cannot be held responsible for the accuracy and opinions provided by such sources on the ANA platform or linked sites.
The content provided for on the ANA News Wire platform, both through the ANA news operation and via its third party sources, are for the sole use of authorised subscribers and partners. Unauthorised access to and usage of ANA content will be subject to legal steps. ANA reserves its rights in this regard.
ANA makes every effort to ensure that the website is up and running smoothly at all times, however ANA does not take responsibility for, and will not be held liable for times when the website is temporarily unavailable due to technical issues that are beyond our control.