FEATURE: Children's songs made for Africa by Africans set for festive season release
The Boomerang Tunes playlist is filled with African kids' songs that are all made in Africa for Africa.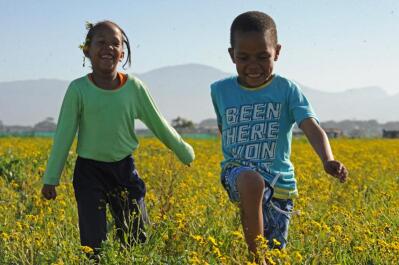 CAPE TOWN, November 21 (ANA) – Children's television network Boomerang Africa is kicking off the festive season on a high note with the release of the last four songs from the second edition of the Boomerang Tunes playlist.
The Boomerang Tunes playlist is filled with kids' songs that are all made in Africa specifically for Africans.
According to a statement issued by the network, following the successful launch of the first four songs in isiZulu, isiXhosa, and English in September, the new addition of sing-along melodies performed by local five to seven-year-old children singing the tunes in their authentic languages will be added to the playlist on Boomerang's YouTube channel and website from December 4.
The four new songs are sung in various languages, including English, pidgin English, and Swahili.
The composers and musicians are from different parts of the continent and are accomplished artists in their own right.
One of the songs is called "Furaha", which is a Swahili composition by Hugh Davidson and Nekoye Ommeh.
For the past 15 years, Davidson has been writing and recording music professionally and has also performed in and produced for other bands during this time
"I had a blast! It's really fun being more playful with music. There was also the added benefit of working on songs in isiZulu and isiXhosa, so I got to work on my language skills a bit more as well," said Davidson.
https://www.youtube.com/embed/4LEsLO7V7xs
Nekoye Ommeh is a Kenyan musician and academic who has showcased her work in different corners of the world and launched her debut album titled "Baba Speaks" in 2010.
"These new Boomerang Tunes are really sweet and authentic, and it has been a whimsical experience creating them in conjunction with Boomerang in location-specific languages, allowing more and more kids across Africa to play and learn in their mother tongue," Ommeh said.
The songs "Best Friend" in Nigerian pidgin English and "Going to School" in English are composed by African singer Zinnia Basame.
Basama said, "Working on the Boomerang Tunes project felt like going back to kindergarten and learning how to be a kid all over again. It took me on a journey to the softest part of my heart, and that felt really nice. It was great working on it."
Basame is of Cameroonian and Nigerian descent and an award winning artist who has bagged accolades across the continent.
The song "My Big Family" is composed by South African Thendo Emmanuel Ramulondi.
"Working on the songs was challenging but exciting at the same time," said Ramulondi.
"The challenging part was to put myself in a child's shoes and to create something fun and happy in line with Boomerang's vision. But knowing that the music I'm creating had the potential to make some children happy was fulfilling."
The versatile Ramulondi, an electrical engineer by trade, now composes radio jingles and music scores for storybook readings, and has also become a household name on the South African gospel scene.
"Africa is the heart of rhythm and so Boomerang set out to create some new kids' songs inspired by Africa, specially made for your family and children," according to the Boomerang Africa website.
Reaching eight million people in South Africa alone, the channel is the second most popular kids' channel in French speaking Africa.
– African News Agency (ANA), editing by Jacques Keet
ANA NEWS WIRE Disclaimer:
The African News Agency (ANA) is a news wire service and therefore subscribes to the highest standards of journalism as it relates to accuracy, fairness and impartiality.
ANA strives to provide accurate, well sourced and reliable information across Text, Images and Video. Where errors do appear, ANA will seek to correct these timeously and transparently.
The ANA platform also contains news and information from third party sources. ANA has sought to procure reliable content from trusted news sources but cannot be held responsible for the accuracy and opinions provided by such sources on the ANA platform or linked sites.
The content provided for on the ANA News Wire platform, both through the ANA news operation and via its third party sources, are for the sole use of authorised subscribers and partners. Unauthorised access to and usage of ANA content will be subject to legal steps. ANA reserves its rights in this regard.
ANA makes every effort to ensure that the website is up and running smoothly at all times, however ANA does not take responsibility for, and will not be held liable for times when the website is temporarily unavailable due to technical issues that are beyond our control.