Chicago police release video of officer shooting 13-year-old Latino boy
In the video, the boy does not appear to be holding a weapon in the split second he was shot, but a handgun was recovered near the spot where he fell.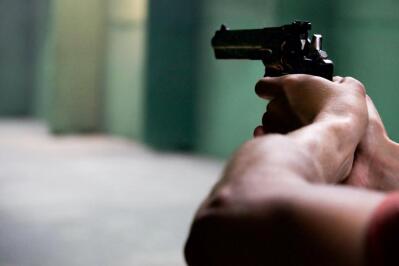 PRETORIA, April 16 (ANA) – The Chicago police have released a video of an officer shooting a 13-year-old Latino boy in a split-second decision after the boy was seen holding a handgun at the end of a foot chase, CNN reported on Friday.
CBS News said the body-worn video shows an officer exiting his vehicle and chasing Adam Toledo on foot down a dark alley as another suspect disappears from view.
"When the officer catches up to the teen, he orders him to raise his hands and yells, Drop it, drop it! The officer fires a single shot to Toledo's chest as the teen raises his hands," CBS said in its report.
After firing the shot, the officer is heard on the body camera using his radio to call for an ambulance. "Shots fired, shots fired, get an ambulance over here now," CNN quoted the officer as saying.
The incident happened in the early hours of March 29 minutes after police were told eight shots had been fired in the area, CNN reported, citing police radio traffic released by the authorities.
The BBC quoted prosecutors as saying that Toledo was with a 21-year-old man, Ruben Roman, who had just fired a gun at a passing car. The gunfire drew police to the area, resulting in the deadly confrontation.
Roman has already appeared in court and has been charged with aggravated unlawful use of a weapon, reckless discharge of a firearm and child endangerment.
Speaking to CNN, Timothy Grace, a union lawyer representing 34-year-old Eric Stillman, said the case was tragic but his client was placed in a situation where he was left with no other option because Toledo had a handgun.
"He feels horrible about the outcome. He feels horrible he had to use deadly force. No police officer wants to use deadly force in the line of duty. He was well within his justification of using deadly force, he just feels horrible,'' Grace was quoted as saying.
CBS News said Chicago mayor Lori Lightfoot held a press conference where she described the footage as difficult to watch and called for calm as the city braced itself for protests.
"Simply put, we failed Adam. And we cannot afford to fail one more young person in our city,'' the BBC quoted her as saying.
The video's release follows the fatal police shooting on April 11 of Daunte Wright by an officer in a Minneapolis suburb.
That shooting has sparked violent protests as the city awaits the outcome of the trial of Derek Chauvin, the officer accused in the death of George Floyd.
– African News Agency (ANA); Editing by Yaron Blecher
ANA NEWS WIRE Disclaimer:
The African News Agency (ANA) is a news wire service and therefore subscribes to the highest standards of journalism as it relates to accuracy, fairness and impartiality.
ANA strives to provide accurate, well sourced and reliable information across Text, Images and Video. Where errors do appear, ANA will seek to correct these timeously and transparently.
The ANA platform also contains news and information from third party sources. ANA has sought to procure reliable content from trusted news sources but cannot be held responsible for the accuracy and opinions provided by such sources on the ANA platform or linked sites.
The content provided for on the ANA News Wire platform, both through the ANA news operation and via its third party sources, are for the sole use of authorised subscribers and partners. Unauthorised access to and usage of ANA content will be subject to legal steps. ANA reserves its rights in this regard.
ANA makes every effort to ensure that the website is up and running smoothly at all times, however ANA does not take responsibility for, and will not be held liable for times when the website is temporarily unavailable due to technical issues that are beyond our control.