25 killed in Rio de Janeiro during police drug raid
Local media reported that the gang targeted in the raid engages in drug trafficking, mugging, murder and kidnapping.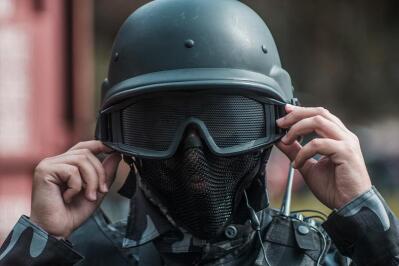 PRETORIA, May 7 (ANA) – At least 25 people have been killed after hundreds of heavily armed police officers stormed into one of Rio de Janeiro's largest favelas (Brazilian slums) in pursuit of drug traffickers, Al Jazeera reported on Friday.
The broadcaster said local media showed live footage of seven young armed male suspects hopping across the roofs while helicopters hovered above them.
Two passengers on the metro were hit by a stray bullet and one police officer was killed, Al Jazeera added in its report.
The BBC quoted local media as saying that the gang targeted in the raid engages in drug trafficking, mugging, murder and kidnapping.
Meanwhile, residents of Jacarezinho have shared accounts of what they witnessed on social media.
The BBC said one of the residents posted a photo of his floor covered in blood and said two people had died in his house as police chased the criminals. He indicated that he would try to move out of the area as soon as possible.
"We're trying to sell the house as fast as possible, we can't continue to live here," he was quoted as saying.
The Guardian UK said human rights activists, residents and public security specialists were outraged at the scale of the carnage.
"It's extermination, there's no other way to describe it," said Pedro Paulo Santos Silva, a researcher from Rio's Centre for Studies on Public Security and Citizenship.
"This was a massacre."
The UK publication quoted Joel Luiz Costa, a Jacarezinho-born lawyer and activist, who said that in more than three decades in the favela he had never seen such bloodshed.
"It was a complete slaughter," said Costa, who shared disturbing images of the aftermath on social media.
"Today was frightening even for those of us who work with public security. The only conclusion you can draw is that in the favelas there is no democracy."
According to the BBC, Rio de Janeiro is one of Brazil's most violent states, riddled with crime and controlled by powerful drug lords.
Security forces in Brazil have often been accused of excessive use of force against the civilian population during anti-crime operations in major cities, the broadcaster added.
– African News Agency (ANA); Editing by Yaron Blecher
ANA NEWS WIRE Disclaimer:
The African News Agency (ANA) is a news wire service and therefore subscribes to the highest standards of journalism as it relates to accuracy, fairness and impartiality.
ANA strives to provide accurate, well sourced and reliable information across Text, Images and Video. Where errors do appear, ANA will seek to correct these timeously and transparently.
The ANA platform also contains news and information from third party sources. ANA has sought to procure reliable content from trusted news sources but cannot be held responsible for the accuracy and opinions provided by such sources on the ANA platform or linked sites.
The content provided for on the ANA News Wire platform, both through the ANA news operation and via its third party sources, are for the sole use of authorised subscribers and partners. Unauthorised access to and usage of ANA content will be subject to legal steps. ANA reserves its rights in this regard.
ANA makes every effort to ensure that the website is up and running smoothly at all times, however ANA does not take responsibility for, and will not be held liable for times when the website is temporarily unavailable due to technical issues that are beyond our control.