Theft of early warning system equipment harms communities: Schlettwein
OTJIWARONGO, 20 JAN- The Ministry of Agriculture, Water and Land Reform has expressed concern about the theft and vandalism of equipment used to monitor floods at its satellite stations along the Cuvelai Basin in the Omusati and Ohangwena regions. The ministry's public relations officer, Jona Musheko in an interview with Nampa on Thursday said there are 26…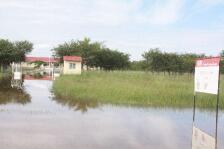 OTJIWARONGO, 20 JAN (NAMPA) – The Ministry of Agriculture, Water and Land Reform has expressed concern about the theft and vandalism of equipment used to monitor floods at its satellite stations along the Cuvelai Basin in the Omusati and Ohangwena regions.
The issue was initially raised by Agriculture Minister Calle Schlettwein, who on social media last week stated that several pieces of equipment at flood monitoring stations had been stolen or vandalised.
"The early warning system so very much needed for flood damage mitigation is now totally disabled. Such theft and vandalism may not be tolerated since it directly harms the communities that bear the risk of flood damage," Schlettwein said.
The ministry's public relations officer, Jona Musheko in an interview with Nampa on Thursday said there are 26 flood monitoring stations along the Cuvelai Basin, of which seven are not operational.
The ministry uses satellites to map out the extent of the floods, while the onsite equipment at the stations measure the depths of the floods.
Musheko noted that new equipment for a single flood monitoring station similar to the one at Nkurenkuru in the Kavango West Region would cost the ministry over N.dollars 2 million to purchase and install.
"For now we are involving the community leaders to make them understand the purpose of the stations, and also for them to help us keep it safe," he said.
(NAMPA)
MS/EK/AS
ANA NEWS WIRE Disclaimer:
The African News Agency (ANA) is a news wire service and therefore subscribes to the highest standards of journalism as it relates to accuracy, fairness and impartiality.
ANA strives to provide accurate, well sourced and reliable information across Text, Images and Video. Where errors do appear, ANA will seek to correct these timeously and transparently.
The ANA platform also contains news and information from third party sources. ANA has sought to procure reliable content from trusted news sources but cannot be held responsible for the accuracy and opinions provided by such sources on the ANA platform or linked sites.
The content provided for on the ANA News Wire platform, both through the ANA news operation and via its third party sources, are for the sole use of authorised subscribers and partners. Unauthorised access to and usage of ANA content will be subject to legal steps. ANA reserves its rights in this regard.
ANA makes every effort to ensure that the website is up and running smoothly at all times, however ANA does not take responsibility for, and will not be held liable for times when the website is temporarily unavailable due to technical issues that are beyond our control.