Otjozondjupa public servants turn up in hundreds at polling stations
OTJIWARONGO, 28 JUL- Hundreds of government employees in the Otjozondjupa Region on Thursday were observed queueing up at polling stations where the voting process for or against a strike has commenced. Nambili, who is the Otjozondjupa regional chairperson for the Namibia National Teachers Union said he is impressed to see huge numbers of government…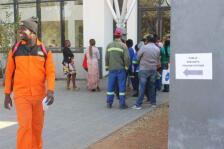 OTJIWARONGO, 28 JUL (NAMPA) – Hundreds of government employees in the Otjozondjupa Region on Thursday were observed queueing up at polling stations where the voting process for or against a strike has commenced.
The regional chairperson of the voting exercise, Job Nambili in an interview with Nampa on Thursday said the actual voting started at 08h00 on Thursday and will end at 17h00.
He said about 200 Government workers in Otjiwarongo alone had cast their votes by 10h00, noting that the region has nine polling stations, of which six are fixed and three are mobile.
"All voting processes are going well, smooth and quick as we have planned," he said.
Nambili, who is the Otjozondjupa regional chairperson for the Namibia National Teachers Union (Nantu) said he is impressed to see huge numbers of government employees turning up at the polling stations in the region.
He said even though the attendance of teachers is dominant at most polling stations in Otjozondjupa due to the two-day break given to them, all Government workers should exercise their democratic right by voting on the strike.
He said the two-day voting process is done using ballot papers, and an identity document or passport is required for verification purposes on the list of all public servants provided to the polling stations.
The voting process follows failed wage negotiations which started in March 2021 between Government and the various trade unions representing public servants.
The workers through their unions are demanding a nine per cent salary increase, 10 per cent on transport allowance and another nine per cent on housing benefits.
The government through the Minister of Labour, Industrial Relations and Employment Creation, Utoni Nujoma on Tuesday responded to the workers' demands by discouraging them to strike as doing so would mean no work, no pay.
Nujoma also added that Government does not have enough money to meet the workers' demands.
The voting exercise ends on Friday.
(NAMPA)
MS/EK/AS
ANA NEWS WIRE Disclaimer:
The African News Agency (ANA) is a news wire service and therefore subscribes to the highest standards of journalism as it relates to accuracy, fairness and impartiality.
ANA strives to provide accurate, well sourced and reliable information across Text, Images and Video. Where errors do appear, ANA will seek to correct these timeously and transparently.
The ANA platform also contains news and information from third party sources. ANA has sought to procure reliable content from trusted news sources but cannot be held responsible for the accuracy and opinions provided by such sources on the ANA platform or linked sites.
The content provided for on the ANA News Wire platform, both through the ANA news operation and via its third party sources, are for the sole use of authorised subscribers and partners. Unauthorised access to and usage of ANA content will be subject to legal steps. ANA reserves its rights in this regard.
ANA makes every effort to ensure that the website is up and running smoothly at all times, however ANA does not take responsibility for, and will not be held liable for times when the website is temporarily unavailable due to technical issues that are beyond our control.