Singapore bus operator Go-Ahead has fitted ultra-thin solar panels onto two public buses in a six-month proof of concept trial to reduce carbon emissions.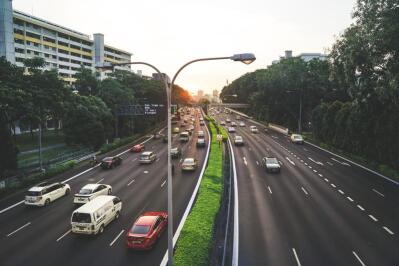 CAPE TOWN, March 31 (ANA) – In its bid to reduce carbon emissions, Singapore bus operator Go-Ahead has fitted ultra-thin solar panels onto two public buses in a six-month proof of concept trial that got under way on Tuesday.
According to Channel NewsAsia (CNA), a Singapore-based network, the solar panels which are fitted at the top of the bus weigh less than 20kg and can generate up to 1,000 watts of energy. This will be used to charge the bus's battery in order to start the engine and will power the bus when the engine is turned off.
"Typically for solar panels they are thick and heavy, so when you install it on top of a bus you'll be concerned on how you would install it safely," Leonard Lee, engineering director for Go-Ahead Singapore, told CNA.
"But the ones we used are ultra-thin and very lightweight, so we've not had issues in that aspect," he said.
Based on data from a similar trial that Go-Ahead conducted in the United Kingdom, which has 18 buses fitted with these solar panels, a fitted bus can expect to save up to 4% of fuel, which is around 1,400 litres of diesel a year.
The objective of the trial run is to measure the performance of the buses in Singapore, to evaluate how effective the panels are in reducing fuel consumption and whether they are capable of withstanding the harsh temperatures and daily maintenance in Singapore's tropical climate.
"A lot of the diesel buses in Singapore still have many years' life left in them, so the solar panels are a way of making the buses even more efficient," said Andrew Thompson, managing director of Go-Ahead Singapore.
"If we see the sort of savings and benefits that we expect, then we would certainly be looking to fit them to more buses, potentially, including the electric buses as well," he said.
– African News Agency (ANA); Editing by Yaron Blecher
ANA NEWS WIRE Disclaimer:
The African News Agency (ANA) is a news wire service and therefore subscribes to the highest standards of journalism as it relates to accuracy, fairness and impartiality.
ANA strives to provide accurate, well sourced and reliable information across Text, Images and Video. Where errors do appear, ANA will seek to correct these timeously and transparently.
The ANA platform also contains news and information from third party sources. ANA has sought to procure reliable content from trusted news sources but cannot be held responsible for the accuracy and opinions provided by such sources on the ANA platform or linked sites.
The content provided for on the ANA News Wire platform, both through the ANA news operation and via its third party sources, are for the sole use of authorised subscribers and partners. Unauthorised access to and usage of ANA content will be subject to legal steps. ANA reserves its rights in this regard.
ANA makes every effort to ensure that the website is up and running smoothly at all times, however ANA does not take responsibility for, and will not be held liable for times when the website is temporarily unavailable due to technical issues that are beyond our control.